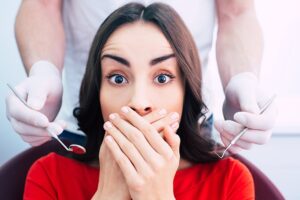 Countless people experience some degree of dental anxiety and patients' discomfort often ranges from a general dislike of dentistry to an outright fear of being in the dentist's chair. Anxiety commonly leads to dental neglect — in which some men and women go years without attending routine check-ups and cleanings — creating the risk of minor issues exacerbating into more serious or invasive concerns. While we understand that feelings of dread can be very debilitating, there is hope. Along with offering personalized sedation dentistry techniques to complement your treatment, our team at Griffiths Smiles has also offered the following tips for managing nerves before a dental appointment: 
Don't go to your appointment alone. Having a friend or loved one accompany you during your visit can help you feel more at ease prior to your treatment, even if they simply wait for you in the car. 
Ask questions. Asking about the details of your treatment can give you a better understanding of what will take place during your visit, often allowing you to feel more comfortable in the dentist's chair. 
Drink tea. Calming peppermint and chamomile tea have been known to have relaxing qualities and may help you reduce anxiety in times of stress. 
Try meditation and breathing exercises. Deep breathing and meditation therapy can help lower your heart rate and reduce nervousness before your appointment. 
Communicate your concerns to your dentist. Don't be afraid to discuss your fears with our dental team. Many practices offer amenities and other accommodations designed to help you relax during your visit. 
If you still feel anxiety about your appointment, rest assured that Dr. Mark Griffiths — our compassionate cosmetic dentist — can talk to you about sedation dentistry techniques designed to make your experience more relaxing. According to the American Dental Association (ADA), sedation dentistry is considered a safe and effective complement to any dental office. Administered in the form of nitrous oxide (laughing gas) or a medication taken orally, sedation dentistry involves utilizing analgesics and anesthesia to help patients with dental anxiety more comfortably undergo their treatment. Dr. Griffiths is a DOCS-certified (The Dental Organization for Conscious Sedation) dentist who has completed continuing education courses in administering dental sedation.
Dr. Mark Griffiths and his team at Griffiths Smiles are committed to making your visit as easy, comfortable, and relaxing as possible. At our practice in Mission Hills, we prioritize gentle techniques and conservative care whenever possible to help you receive the treatment you need without debilitating dental anxiety. Contact Griffiths Smiles today to schedule a consultation or to speak with a member of our office.