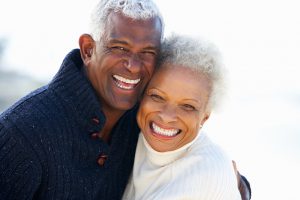 Dental bridges are fixed appliances that work to restore the structure and function of your teeth after tooth loss. These appliances are non-removable, so they will become a permanent part of your smile. There are many different types of bridges available to replace missing teeth, and we can help you to choose the right option for your unique dental needs.
A traditional bridge is the most common type of bridge used to improve tooth loss. The bridge contains two porcelain dental crowns fused to zirconia that both slip over two anchoring teeth found on either side of the artificial teeth. The bridge then fills the gap that was created due to tooth loss, thereby restoring the full integrity of your smile.
What are the Benefits of Dental Bridges?
Dental bridges can be an excellent treatment to replace consecutive missing teeth, whether you're living with one lost tooth or many. One of the main benefits of traditional dental bridges is that they don't require oral surgery or a lengthy treatment period to secure — after some minor tooth preparation, the custom-made dental bridge can simply be bonded to your healthy teeth in order to fill the gap. Other benefits of using a bridge as your tooth replacement include:
No recovery period
Prevents the shifting of surrounding teeth
Can complete your smile without the need for messy pastes and adhesives
Can improve your bite and allow you to eat a wider range of foods
No need for bone grafting
While a fixed or attached dental bridge does not require an invasive procedure, some patients prefer implant-supported bridges to attain better stability for their prosthesis (fake teeth). This involves anchoring your bridge to the jawbone via dental implants, allowing you to avoid additional bone loss and achieve a more long-lasting restoration. Unfortunately, an implant bridge does require implant surgery to properly support the restoration.
Is a Dental Bridge Right for Me?
A dental bridge is usually most successful for patients who need to replace one or more teeth in a row. Whether you're missing an individual tooth or many consecutive teeth, dental bridges can replace the length of the entire gap. A consultation with Dr. Griffiths is necessary to truly determine the best treatment for your needs; however, good candidates for a dental bridge generally include individuals who:
Need to replace one or more teeth, but do not want to undergo an invasive procedure
Do not have enough jawbone volume to get dental implants
Have lost bite strength or function due to their missing teeth
Are healthy with no significant oral hygiene issues, such as periodontal (gum) disease
Many patients who are not good candidates for a dental implant are able to achieve their dental goals with a fixed or implant-supported bridge. Dr. Griffiths can evaluate your missing teeth and go over your treatment options with you to confirm whether a dental bridge — or another tooth replacement option — is the best solution to restore your smile. Once anchored into place, a dental bridge should look and feel like a natural part of your mouth.
Types of Dental Bridges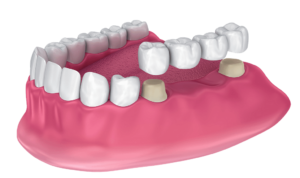 In general, fixed bridges and implant bridges are the most frequently utilized to replace multiple missing teeth in a row. Both options fill in the gap between healthy teeth to restore your smile and strengthen your bite, but the manner in which they are secured to the mouth differ. Dr. Griffiths can guide you through the decision-making process and help you choose the most beneficial option for your needs.
Fixed Bridge
A fixed dental bridge is attached to healthy teeth on each side of the absent space left by missing teeth, effectively "bridging" the gap in your smile. This is the least invasive dental bridge technique, as oral surgery is not required to affix the restoration to your mouth. By securing the bridge to adjacent teeth via dental crowns, patients can recover the strength of their bite and restore the appearance of their smile. There is also little to no downtime required after placing a fixed dental bridge. That said, a fixed prosthesis typically does not last as long as an implant-secured bridge and the restoration does not stimulate the underlying jawbone.
Implant-Supported Bridge
An implant bridge is affixed to the jaw using dental implants, often providing the utmost security and stability possible. Treatment involves an oral procedure in which small, titanium posts are inserted into the gumline to act as natural tooth roots. After the posts fuse with the jawbone over the following months, the dental bridge is placed atop the titanium implants. This can replicate the appearance and function of a full tooth. Since implants are designed to replace the natural tooth roots, an implant-supported bridge can help regenerate new growth of the jawbone and prevent further bone loss. Furthermore, the outcome of treatment can typically last years, or even decades, with proper maintenance and care.
Reasons for Choosing a Fixed Bridge
There are numerous reasons why you might choose a fixed bridge to correct your tooth loss:
Restore the smile
Improve your ability to speak and chew like normal
Maintain your normal face shape
Fill in the spaces left by missing teeth
Prevent the remaining teeth from shifting positions
Upgrade from removable dentures
Dental Bridges vs. Dental Implants
A dental bridge and dental implant can both successfully replace one tooth or multiple missing teeth; however, these treatments are very different and offer distinctive results. A bridge is a restoration that can close gaps in your smile by being secured to dental crowns, which are bonded to healthy adjoining teeth. On the other hand, dental implants are inserted into the jawbone and left to integrate with your mouth, after which another restoration — such as a crown, bridge, or denture — is placed atop the implant. Therefore, it can be determined that an implant acts as the tooth root, while a bridge serves as the tooth body.
In terms of results, a dental bridge can typically be placed within one or two appointments for an almost immediate tooth replacement. With dental implants, the process can take four to six months to complete, and requires a minor oral surgery to affix the implants to the jawbone. While implants offer the best long-term results for your smile and oral health, patients who prefer to avoid surgery or who do not have enough bone volume to support an implant can still find success in dental bridges.
How is Treatment with a Dental Bridge Performed?
The process of getting your bridge will generally require at least two appointments with our cosmetic dentist, Dr. Mark Griffiths. Your teeth will be numbed to keep you comfortable throughout the procedure, and the anchoring teeth will then be prepared by having a thin portion of the enamel removed in order to make room for a crown. Molds will be made of your teeth and sent to a dental lab, where the bridge will be fabricated. You may also be able to wear a temporary bridge until your follow-up appointment, which will usually be scheduled about two weeks out.
At your next visit, we'll remove your temporary bridge and the new bridge will be checked for proper fit. Once it is determined that the appliance is ready, it will be bonded or cemented into place.
How Long Do Dental Bridges Last?
A dental bridge can last years with proper care and the exact lifespan of each restoration varies depending on the type of bridge placed. It's important to consistently attend your semi-annual dental appointments so Dr. Griffiths can continue monitoring the condition of your dental bridge. In general, good oral hygiene habits are the best way to ensure your bridge lasts as long as possible. This usually only necessitates daily brushing and flossing to prevent bacteria buildup and the formation of decay. If you are active in sports, it can also be beneficial to invest in a mouth guard to reduce the likelihood of a dental injury, which may shorten the lifespan of your dental bridge. Our practice also offers custom-made night guards for patients who are prone to teeth grinding or bruxism while asleep to further protect the quality of your bridge.
How Much Does a Dental Bridge Cost?
A dental bridge can be a more economical tooth replacement option when compared to other dental restorations, often making them an attractive solution to restore missing teeth. In San Diego, the cost of a dental bridge per unit generally ranges from $1,000 to $2,500 depending on the unique details of an individual's treatment plan, such as:
The number of units in your dental bridge
The technique used to secure the dental bridge
The cost of the restoration
Fees from the dental lab
Since the cost of a dental bridge can vary from patient to patient, our office would be happy to provide you with a personalized cost estimate once Dr. Griffiths can assess your needs in a consultation. Dental financing through CareCredit® can often be a useful option for some individuals, which allows qualified patients to pay for their dental bridge treatment in smaller, more manageable installments. Please call our office at (619) 298-6257 if you have any other questions or concerns about the cost of a dental bridge.
How Do I Care for My Dental Bridge?
Bridges are created to be highly durable and with proper care, they can last for several years. However, even normal wear can require a replacement, so be sure to follow up with Dr. Griffiths regularly to ensure your appliance is still in good shape. You should also be sure to brush and floss properly in order to keep your remaining teeth healthy and avoid future tooth loss.
Do Dental Bridges Hurt?
Patients who receive dental bridges typically don't report pain from their restoration, although some soreness or tenderness in the mouth during the preparation process — as well as after the bridge is placed — is not uncommon. Any discomfort can be managed with over-the-counter pain medication and these effects often subside in the hours after treatment. In many cases, a numbing agent or local anesthetic is used during the appointment to enhance comfort while your bridge is being affixed. Rest assured that Dr. Griffiths and our team will let you know what you can expect from the placement process prior to your treatment.
Additional Dental Bridges FAQ
Do I have to get a full dental bridge?
A dental bridge is custom-crafted according to the number of teeth that require replacement. If necessary, Dr. Griffiths also offers partial dental bridges for individuals who are only missing a few teeth in a row. No matter the nature of your unique needs, Dr. Griffiths develops a personalized treatment plan tailored to achieve your goals. Both a full and partial dental bridge can restore the form and function of lost teeth for many decades to come.
Should I get a fixed bridge or an implant bridge?
The best type of dental bridge for you depends on your needs and preferences. If you have lost too much bone density to support dental implants, a fixed bridge attached with dental crowns may be the best option for you. That said, many patients with the necessary jawbone support enjoy the increased stability and security provided by an implant bridge. When supported by implants, your dental bridge can also help regenerate new bone volume and strengthen your bite.
What does a dental bridge feel like?
While there may be an acclimation period immediately after your dental bridge is placed, this should resolve as you become accustomed to wearing your restoration. Tenderness or discomfort right after treatment is normal and can be managed with over-the-counter pain medications. Once you get used to your fixed or implant-supported dental bridge, the restoration should feel like a natural part of your mouth. Since implant bridges are surgically affixed to the jawbone, these prostheses tend to feel more natural when compared to attached bridges.
Can I whiten my teeth after getting a dental bridge?
No, it's not recommended to whiten your teeth after getting a dental bridge. This restoration is shaded to match the color of your natural teeth in order to obtain a natural result, and the bridge itself will not be affected by bleaching agents used during teeth whitening. Ultimately, whitening your smile when you have a dental bridge can be ineffective and lead to a less realistic outcome.
Are dental bridges stain resistant?
Yes, dental bridges should be resistant to staining agents like coffee, tea, wine, pasta, etc. We encourage patients to maintain a strong oral hygiene regimen to help prevent discoloration and preserve the integrity of your final results.
Questions? Our Bankers Hill and San Diego-area dentist can help you find effective and natural-looking solutions to replace your missing teeth. Please contact Griffiths Smiles to learn more about dental bridges and our other restorative dentistry services.