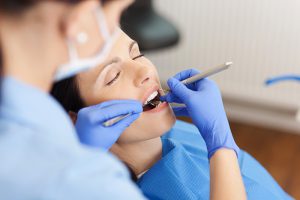 Whether resulting from a traumatic experience at another dental office or a general dislike of dentistry, anxiety before a dental treatment is not uncommon. One of our goals at Griffiths Smiles is to make your visit as comfortable and pleasant as possible. We understand that some patients may avoid necessary care due to their fears, which is why we provide customized sedation dentistry solutions to alleviate anxiety and make it easier for you to receive treatment. 
"Dr. Griffiths and his excellent staff have created a haven for those of us who tremble at the thought of dental work. Everyone is friendly, cheerful, and more than willing to explain why any procedure needs to be done, making it obvious Dr. Griffith and staff stay up to date with current research and technology. Renee the hygienist, Silvia the dental technician, and Liz the office manager have helped Dr. Griffith make me comfortable with my teeth for the first time ever!"
What is Sedation Dentistry?
Sedation dentistry, sometimes called "sleep dentistry," comprises several different techniques that can allow patients with dental anxiety to relax in the dentist's chair. Each sedation method is tailored according to an individual's unique needs and levels of anxiety, allowing a customized approach to treatment. At our practice, Dr. Mark Griffiths offers two types of sedation: nitrous oxide (laughing gas) and oral conscious sedation. 
Who is a Candidate For Sedation Dentistry?
Sedation dentistry can be a helpful complement to treatment for patients who:
Have dental phobia, or a fear of going to the dentist
Have previously had a traumatic experience at the dentist
Dread their upcoming dental appointment
Are anxious in the dentist's chair
Have a sensitive gag reflex
Sedation techniques can be particularly beneficial for individuals undergoing more extensive dental work, or whose treatment plan encompasses multiple procedures. If you are unsure about the best approach for you, Dr. Griffiths would be happy to help determine the best sedation option for your needs. 
Nitrous Oxide
Also known as "laughing gas," nitrous oxide has been utilized for pain management during dental treatments for decades. Nitrous oxide is composed of equal parts nitrogen and oxygen, which is inhaled through a breathing mask. This does not put patients to sleep, but rather helps them feel comfortable, relaxed, and stress-free during their treatment. The effects of the nitrous oxide should begin within a few minutes of breathing in the mixture and can induce feelings of comfort and calmness. It is also not uncommon for patients to feel light and easily amused while inhaling the nitrous oxide. These reactions will fade soon after the mask is removed and patients start breathing normally again.
 
Oral Conscious Sedation
Oral conscious sedation is administered in the form of one or more medications taken orally. Considered safe and effective by the American Dental Association (ADA), this sedation option should create a state of deep relaxation while allowing you to remain conscious for the duration of treatment. The effects normally last for several hours, so it is necessary for a friend or loved one to drive you to and from your appointment. 
How Much Does Sedation Dentistry Cost?
The cost of sedation dentistry varies according to which technique was utilized. At our practice, sedation fees may be worked into the cost of your overall treatment plan. For certain procedures involving an all-day appointment, dental sedation may be complimentary. Rest assured that a member of our office will provide you with a personalized quote during your treatment. If you wish to pay in a series of smaller installments rather than a lump sum, Dr. Griffiths accepts dental financing from qualified patients through CareCredit®. As one of the leading healthcare lending companies in the country, CareCredit® offers approved individuals a variety of short- and long-term payment plans to suit their budgetary concerns. Please contact our office to speak with a member of our team for any questions you may have about sedation dentistry.