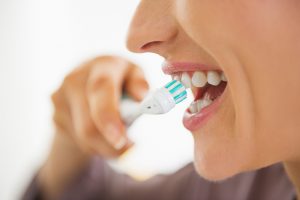 At Griffiths Smiles, we understand that healthy, luminous smiles begin with exceptional service for you and your family. Our team takes the time to listen to your needs, concerns, and goals in order to truly provide you with compassionate, patient-focused care. We believe that the high-quality dentistry you deserve is encompassed by gentle techniques and personalized treatment, which is why our caring and experienced dental team is fully committed to your dental needs—whether those needs involve tips on better oral hygiene habits, a routine examination, reduced anxiety during treatment, or a complete smile makeover.
Our skilled family dentist—Mark Griffiths, DDS—is passionate about helping you and your loved ones achieve perfection in your smile and oral health. Below, you can find an array of dental treatments available at our San Diego practice to keep your teeth looking healthy and beautiful.
"My whole family sees Dr. Griffiths. He is by far the best dentist my husband and I have ever been to. His office staff is super helpful and courteous. I can't say enough positive things about the hygienist, Renee. My kids love coming to get their teeth cleaned as she makes them feel so special. Her schedule leaves enough time for her to talk with her patients and get their teeth super clean; no rushed treatment here! Wait time at the office is nonexistent. I recommend this dentist and his staff to anyone, including families with kids."
Oral Exams, Cleanings, & X-Rays
Oral Examinations
Visiting the dentist on a regular basis is key to preventative dental care. Without semi-annual appointments to monitor your oral wellness, mild concerns can snowball into larger problems that aren't as easily treatable. Oral exams help us identify small issues before they exacerbate into problems that are more severe, more costly, and require more extensive treatment.
Our routine oral exams typically include:
X-rays to identify decay, cysts, tumors, issues below the gum, hidden dental concerns
Visual evaluation of tooth decay
Gum disease screening
Oral cancer screening
Gum pocket measurement and tracking
Getting your teeth and gums evaluated consistently is essential to your oral and overall health. As Benjamin Franklin once said, "an ounce of prevention is worth a pound of cure."

Cleanings
Semi-annual professional cleanings from a dentist or licensed dental hygienist should complement your daily brushing and flossing regimen. We use gentle cleaning techniques to eliminate:
Surface stains on the teeth
Plaque buildup, which refers to bacteria accumulation on the teeth that can progress to decay, gingivitis, and advanced gum disease if left untreated
Tartar (calculus), or hardened plaque on the enamel that can only be removed through scaling
Certain patients may require a deep cleaning treatment as a result of previous gum disease and/or periodontal work. Dr. Griffiths can review your past dental history and assess the best treatment for your needs.
X-Rays (Radiographs)
Dental x-rays are utilized to detect potential problems on the inside of the tooth, such as internal decay, tumors, impacted teeth, cysts, and teeth that are still erupting. These images help us identify early concerns before they worsen, often saving patients time and money in the long run. At Griffiths Smiles, our team uses cutting-edge dental technology like digital x-rays rather than film-based x-rays to reduce patients' exposure to radiation, as well as shorten turnaround time between developing the images.
Oral Cancer Screening
According to the Oral Cancer Foundation, close to 50,000 people will be diagnosed with oral cancer in this year alone. Since cancerous lesions in the mouth and soft tissues can resemble normal inflammation and canker sores, it is not uncommon for individuals to potentially harbor a malignant growth and have no idea. For this reason, oral cancer screenings are critical to early detection and prompt treatment of possible tumors in the mouth. Our dental team utilizes OralID® during oral cancer screenings, a state-of-the-art tool that can detect benign and cancerous lesions in the mouth within a few minutes simply by shining a handheld light.
Periodontal Care
While most patients are more concerned with their teeth than the possibility of periodontal disease, the health of the gums is a major part of achieving whole body wellness. Without proper care, bacteria left to accumulate in the mouth can cause serious symptoms such as gum recession, infections, the shifting of surrounding teeth, and—in the most severe stage of gum disease—possible tooth loss. The easiest way to be proactive about your gum health is to brush and floss twice a day, as well as to regularly undergo professional dental cleanings. Dr. Griffiths takes a gentle approach to periodontal care and prioritizes conservative techniques whenever possible to restore the complete health of the gums and gingiva.