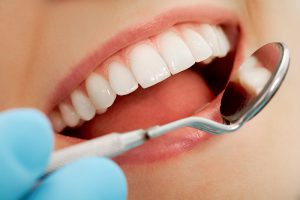 Porcelain veneers are considered a stand-out treatment in cosmetic dentistry. Unmatched in natural-looking beauty and durability, porcelain veneers have the potential to dramatically enhance the appearance of your entire smile. Dr. Mark Griffiths, our highly skilled cosmetic dentist, places porcelain veneers at our Bankers Hill practice for patients seeking a conservative solution to minor tooth imperfections. 
"Being a retired dentist after 40 years in the business, and also being an Accredited Member and Fellow of the American Academy of Cosmetic Dentistry as well as an Examiner for both Accreditation and Fellowship, I have seen the work of many dentists applying for these prestigious achievements. Dr Griffiths has all the skills necessary to take care of his patients. He also has an incredible staff to help him. I am sure that anyone seeking excellent dental care at a reasonable price will be most happy with this office."
What are Porcelain Veneers?
A porcelain veneer is an ultra-thin shell designed to restore the proportions of a full, healthy tooth. It is bonded to the front of a tooth using a strong cement, thereby masking common cosmetic concerns such as gaps, chips, cracks, and staining. Dental porcelain closely resembles the appearance of enamel, so a porcelain veneer should look and feel like a natural tooth.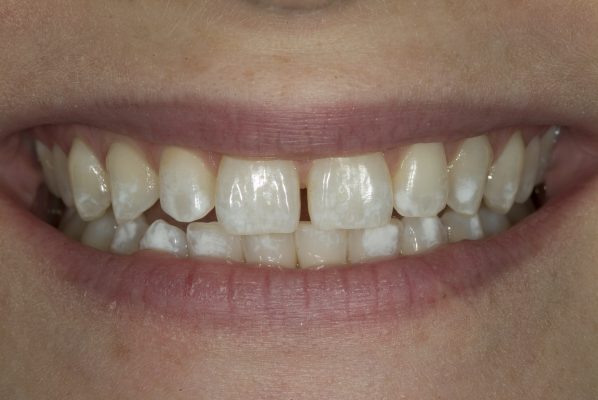 Before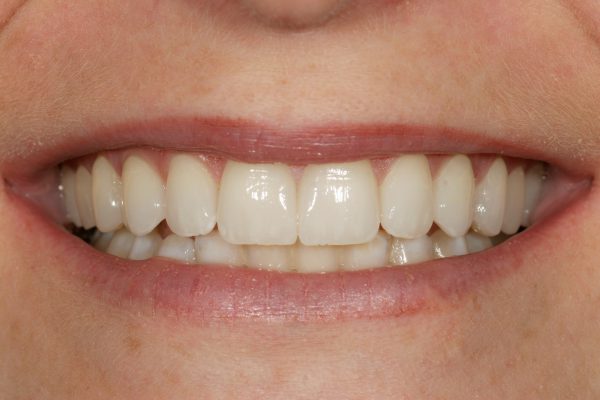 After
What are the Benefits of Porcelain Veneers?
Porcelain veneers can dramatically transform the appearance of a tooth by making it look fuller and  healthier in as little as two office appointments. For most patients, even a single porcelain veneer placed over an imperfect front tooth can powerfully enhance their entire smile. Plus, there is very little tooth preparation necessary before placing a veneer and results often last for 10 to 15 years or longer. Among the chief benefits of porcelain veneers include:
Fast turnaround time
Natural-looking aesthetics
Minimally invasive treatment
Long-term results
Resistant to staining
The smile transformations featured in our before-and-after gallery can give you a good idea of how porcelain veneers can be used to conceal many types of dental flaws. On top of hiding deficiencies in the structure of a tooth, a porcelain veneer can also mask localized discoloration in the enamel. 
Who is a Candidate for Porcelain Veneers?
Porcelain veneers can be an ideal treatment for patients who wish to improve:
Gaps or uneven spacing between teeth
Deep staining and discoloration
Misaligned or short teeth
Teeth that appear chipped, short, or worn
The best candidates for treatment include individuals whose concerns are primarily cosmetic in nature. If you experience more functional issues, such as difficulty biting or decayed teeth, a dental crown may be a more beneficial restoration for your needs.
  
Porcelain Veneers vs. Porcelain Crowns
Porcelain veneers and crowns are two highly effective solutions to improve a flawed tooth. While both restorations can offer functional and aesthetic advantages, the main distinction between porcelain veneers and crowns is that each treatment is designed to address different concerns. For example, issues that are more cosmetic in nature — such as small gaps, short teeth, and chipped enamel — can be addressed with a porcelain veneer. These problems do not usually require extra support or reinforcement from a restoration. 
In contrast, concerns that affect the health or function of a tooth, such as tooth decay or severe damage, usually necessitate a porcelain crown. Unlike veneers, which are simply bonded to the front of a tooth, dental crowns are placed on top of a tooth to provide additional protection, or to aid in the rehabilitation of missing or broken teeth. Therefore, veneers can be thought of as a more aesthetic restoration while crowns are typically considered a reconstructive solution. 
How is Treatment with Porcelain Veneers Performed?
The porcelain veneer process is typically completed in two appointments. First, the affected tooth is prepared for treatment by buffing and mildly reshaping the surface of the tooth. This is necessary to allow a natural fit for your veneer. Dr. Griffiths will then take an impression of your teeth and select a matching tooth shade to help ensure your veneer blends in seamlessly with the rest of your smile. The impressions are sent to a dental lab, where your porcelain veneer is custom-crafted by a ceramist. On your second visit, Dr. Griffiths will cleanse your tooth and prepare it for bonding. The porcelain veneer is then bonded to the affected tooth using a special light designed to complete the dental bond. 
How Long Do Porcelain Veneers Last?
Porcelain veneers are considered long-lasting restorations and should provide a beautiful result well into the future; however, they are not lifetime devices and may require replacement due to chipping, fracture, or tooth decay. Good oral hygiene is critical to prolonging the lifespan of porcelain veneers, as well as minimizing stress on the veneers, routine brushing, flossing, and semi-annual oral examinations. These measures will vastly increase their longevity. 
How Much Do Porcelain Veneers Cost?
On average, porcelain veneers usually cost between $1,400 and $2,400 per tooth. Your cost estimate will ultimately depend on the details of your procedure, such as: 
The type of veneer selected
The amount of tooth preparation necessary
Dental lab fees
Our team will be able to provide you with a personalized quote after your needs are assessed by Dr. Griffiths. We accept dental financing plans for qualified patients through CareCredit®, a widely utilized healthcare lending company that can help you manage out-of-pocket expenses. If you have any questions about porcelain veneers or your potential payment options, please contact Griffiths Smiles today.
 
Are There Alternatives to Porcelain Veneers?
While a porcelain veneer is the most long-lasting restoration to correct dental imperfections, there are a few alternative options offered at our Bankers Hill practice. Dr. Griffiths also performs composite bonding to fix minor aesthetic issues, such as chips, cracks, and mild structural irregularities, without the need for prior tooth preparation. This is possible using a composite tooth-colored resin, which is applied to the affected tooth in layers and subsequently shaped to restore the correct proportions. The results can be extremely natural-looking and treatment is often much more cost effective when compared to porcelain veneers. That said, composite bonding cannot address all of the dental issues that are treatable with porcelain veneers. Dr. Hughes will examine your concerns and ask you about your goals during your consultation to help you determine the most ideal approach to enhance your smile. 
At Griffiths Smiles, we can help patients in Hillcrest and surrounding areas address aesthetic imperfections in their smile with minimally invasive solutions. Please contact our office to schedule a consultation, or to speak with a friendly member of our dental team.