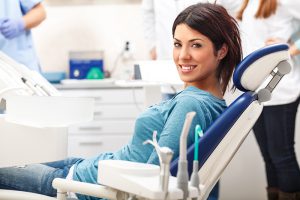 A radiant smile is often directly related to gaining a sense of unwavering confidence. Dr. Mark Griffiths, our cosmetic dentist and a longtime member of the American Academy of Cosmetic Dentistry (AACD), offers the entire scope of aesthetic dental treatments designed to optimize the color, symmetry, and proportions of your teeth using the most minimally invasive techniques possible. Our team also utilizes cutting-edge smile imaging technology to guide your treatment, which can allow you to see a preview of your potential smile transformation prior to any dental work being done.
Explore Topics
"The most careful, meticulous dentist I have ever had. Dr. Griffiths brings out the art of dentistry; he and his staff are kind, warm, down-to-earth people who make going to the dentist a cake walk."
Porcelain Veneers
Porcelain veneers are considered unsurpassed in beauty as well as durability. These extremely versatile cosmetic restorations are designed to correct many minor tooth flaws, such as gaps, stains, chips, and asymmetries. With porcelain veneers, these imperfections can be concealed in only two office visits and yield an outcome that often lasts years. A veneer is composed of an ultra-thin and natural-looking porcelain shell that is bonded to the front a damaged tooth.
Invisalign®
Ever wish you could straighten your smile without significant disruptions to your daily life? With Invisalign®, you can discreetly align your teeth without any conspicuous signs that you're undergoing treatment! This clear aligner system is designed to gently guide your teeth into the proper positioning while eliminating the inconveniences of metal braces, such as a limited diet and an obstructed smile. Invisalign® can effectively treat crowded or crooked teeth as well as biting issues (malocclusion).
Zoom!® Teeth Whitening
Teeth whitening can be one of the fastest and most effective ways to completely transform your smile. While whitening toothpastes are capable of removing surface stains, professional teeth whitening from a trained cosmetic dentist is often the only technique that can lighten deep discoloration found on the inside of a tooth. Dr. Griffiths offers the powerful Zoom!® whitening system at our practice, an option that can brighten and whiten the teeth by several shades in approximately one hour.
Composite Bonding
Chipped, mildly damaged, or stained teeth can often be restored with composite bonding, a relatively simple treatment that can be more affordable and less invasive than other reparative dental techniques. Bonding a tooth involves applying multiple layers of a tooth-colored resin to damaged enamel in order to restore a tooth's proper shape and/or natural sheen. This allows treatment of minor cosmetic concerns during a single appointment and without the expense of a more costly restoration.