Meet Dr. Mark Griffiths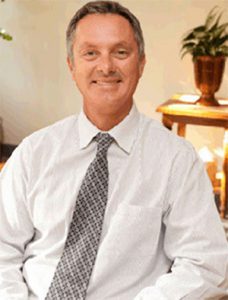 Dr. Mark Griffiths earned his Doctorate of Dental Surgery from The University of Southern California Dental School, where he graduated with honors. He subsequently completed his Residency at The University of Washington Hospital, specializing in Medically Compromised Patients.
Professional Awards
Throughout his career, Dr. Griffiths has earned numerous awards and recognition for his clinical techniques. He received a Certificate of Outstanding Achievement and Certificate of Professionalism from The International College of Dentists. He also received a Certificate of Merit from The American Academy of Oral Medicine and has been named San Diego Top Dentist yearly since 2011.
Professional Memberships
Well-respected throughout the dental community, Dr. Griffiths is known for both his excellent clinical skills and personable demeanor. He continuously seeks excellence by pursuing the highest levels of continuing education and holds memberships to numerous dental organizations.
Dr. Griffiths is a Dawson Academy Scholar and a fifteen-year member of both The Dental Organization for Conscious Sedation and The American Academy of Cosmetic Dentistry.
Additionally, Dr. Griffiths is a twenty-year member of The American Dental Association, The California Dental Association and The San Diego County Dental Society. He also participates in continuing education with The American Academy for Oral and Systemic Health.
His Mission
Along with his team, Dr. Griffiths has the vision of inspiring, motivating, and supporting their local community, family, and friends in achieving complete health. They aim to create a healthy, safe environment where patients are integral members of their own healthcare team. Dr. Griffiths and his staff are committed to improving the quality of life for their community, patients, and each other within an atmosphere of kindness and goodwill. They commit to act ethically and with integrity in their daily actions and interactions.
Dr. Griffiths is devoted to his patients' complete health and creating rewarding, long-lasting relationships. He is passionate about educating his patients on the connection between oral health and systemic health. Dr. Griffiths feels strongly that your mouth is the gateway to your body, and therefore you cannot be truly healthy without a healthy mouth. His overarching goal for all patients is total wellness.
"It would take a lot of space to describe the outstanding work done by Dr. Griffiths and his staff. So I will cut to the chase: My entire family and I have been patients of Dr. Griffiths since the first day he opened this office, and every experience we have ever had has been professional, caring and (most importantly) painless. Without exception, I can say his work has been exceptional! From the moment you walk through the door, the staff excels at putting you at ease, and you get the feeling that you are with friends. You trust them because they really care about your health. I would recommend them to everyone."