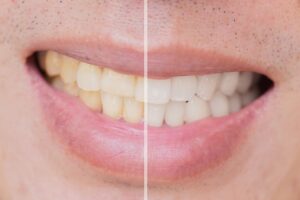 There are a myriad of foods and beverages that can be powerful staining agents, but none are usually as noticeable or difficult to remove as tetracycline stains. "Tetracycline" refers to an antibiotic that was commonly prescribed to children and adults for many decades. While effective in treating infections, tetracycline was also associated with cases of permanent tooth discoloration — primarily in young children. This manifested in permanent yellow, brown, or gray stains embedded below the gumline or inside of the tooth enamel. Although widespread prescription of tetracycline stopped once the staining side effects of the medication were more well-known, some patients still struggle with dark intrinsic (internal) discoloration. 
If you dislike your smile due to visible tetracycline stains on your teeth, effective solutions to get rid of deep discoloration do exist. Dr. Mark Griffiths, our highly skilled cosmetic dentist based in Bankers Hill, can evaluate your concerns and recommend treatments including professional-grade teeth bleaching and porcelain veneers — both of which can help get rid of or conceal tetracycline stains for the long-term future: 
Professional teeth bleaching: With teeth whitening, our dentist can lighten tetracycline stains and create a more uniform shade for your smile. Depending on the severity of discoloration observed, it may take multiple treatments and/or several weeks to effectively erase all staining. Fortunately, this treatment is simple, convenient, and can be completed in as little as one hour. Our practice also offers take-home kits so you can whiten your teeth at your own convenience. 
Porcelain veneers: For more severe tetracycline stains, a porcelain veneer may be the most optimal solution. These thin, porcelain shells bear a striking resemblance to your natural tooth enamel and are bonded to the front of the affected tooth to hide discoloration. The veneer is then shaded to the natural color of your smile, restoring the appearance of a full, healthy, and beautiful tooth. 
Depending on the extent of your tooth discoloration, a brighter, whiter smile can be enjoyed in as little as one hour at Griffiths Smiles. Don't hesitate to contact the friendly team at our San Diego office to schedule an appointment, or to learn more about how we can help you achieve your goals.