Imagine having the ability to achieve straighter teeth without anyone knowing you're undergoing orthodontic treatment. With Invisalign®, an unobtrusive, removable, and comfortable alternative to metal braces is possible! This clear aligner option can reduce the many inconveniences of traditional braces, such as time-consuming maintenance, a limited diet, and irritated or swollen gums. Dr. Mark Griffiths, our highly skilled cosmetic dentist, offers Invisalign® at his Bankers Hill and Hillcrest-area practice to help patients achieve a healthy smile and bite as discreetly as possible. 
What is Invisalign®?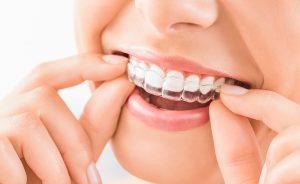 Invisalign® is an orthodontic system designed to straighten your teeth using clear and durable thermoplastic aligners. These dental aligners resemble tooth-whitening trays, except they are custom-fitted to guide your teeth into the proper positioning based on a virtual treatment plan created by your dentist. Invisalign® can treat most, if not all, of the concerns usually addressed with metal braces, such as underbites, overbites, cross bites, open bites, and crooked/misaligned teeth. 
Invisalign® vs. Braces
One of the most notable advantages of Invisalign® is the ability to eat and drink whatever you please throughout the course of treatment. Since the clear aligners are removable, you can simply remove your Invisalign® trays before meals and brush and floss as you normally would. In addition, patients typically experience less discomfort and inflammation when compared to traditional braces due to the absence of metal brackets and wiring. 
For many years, previous types of removable braces were limited in the scope of their treatable concerns. Fortunately, Invisalign® is coupled with advanced cosmetic dentistry computer software and manufacturing processes that allow the system to treat a broad range of cases. 
What is the Invisalign® Process Like?
Before starting treatment, patients are generally able to view their projected rate of progress and potential results via advanced 3D imaging software. This technology can simulate the entire treatment process—from the starting position of your teeth to the desired final outcome—so you know what to expect throughout every stage of the Invisalign® system. During treatment, patients will receive a new set of Invisalign® trays every two weeks that incrementally move their teeth into the next positioning until the final outcome is achieved. Aligners should be worn for at least 20 to 22 hours per day—ideally, at all times except when eating or cleaning the teeth. Invisalign® usually does not require as much time in the dentist's chair, or as many office appointments, as traditional braces.
 
How Long Does Invisalign® Take to Straighten Teeth?
The average treatment time for Invisalign® is often faster than, or consistent with, how long metal braces take to straighten teeth. Most patients achieve their goals within 9 to 12 months, although the extent of your concerns will ultimately determine the length of your treatment. The best way to complete your Invisalign® plan as fast as possible is to wear your aligners religiously, only removing them when eating, drinking, brushing your teeth, or flossing. 
How Much Does Invisalign® Cost?
According to their website, Invisalign® can cost anywhere from $3,000 to $7,000 and the price generally varies across different geographic locations. The Invisalign® site also states that dental insurance may cover up to $3,500 of your total costs, depending on your provider and the complexity of your treatment plan. Dr. Griffiths and our office will be sure to provide you with a personalized quote, as well as your different payment options, once your concerns are evaluated in a consultation. Any out-of-pocket expenses may be applicable for dental financing through CareCredit®, a leading healthcare lending company that offers qualified patients an array of low- to no-interest payment plans to help make their Invisalign® costs more affordable. Please contact Griffiths Smiles for additional information on Invisalign® and our team would be happy to assist you with other questions you may have.