Imagine having the ability to achieve straighter teeth without anyone knowing you're undergoing orthodontic treatment. With Invisalign®, an unobtrusive, removable, and comfortable alternative to metal braces is possible! This clear aligner option can reduce the many inconveniences of traditional braces, such as time-consuming maintenance, a limited diet, and irritated or swollen gums. Dr. Mark Griffiths, our highly skilled cosmetic dentist, offers Invisalign® at his Bankers Hill and San Diego-area practice to help patients achieve a healthy smile and bite as discreetly as possible.
What is Invisalign®?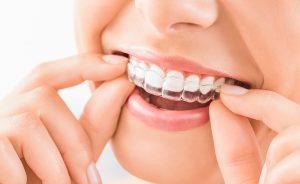 Invisalign® is an orthodontic system designed to straighten your teeth using clear and durable thermoplastic aligners. These dental aligners resemble tooth-whitening trays, except they are custom-fitted to guide your teeth into the proper positioning based on a virtual treatment plan created by your dentist. Invisalign® can treat most, if not all, of the concerns usually addressed with metal braces, such as underbites, overbites, cross bites, open bites, and crooked/misaligned teeth.
Invisalign® vs. Braces
One of the most notable advantages of Invisalign® is the ability to eat and drink whatever you please throughout the course of treatment. Since the clear aligners are removable, you can simply remove your Invisalign® trays before meals and brush and floss as you normally would. In addition, patients typically experience less discomfort and inflammation when compared to traditional braces due to the absence of metal brackets and wiring.
For many years, previous types of removable braces were limited in the scope of their treatable concerns. Fortunately, Invisalign® is coupled with advanced cosmetic dentistry computer software and manufacturing processes that allow the system to treat a broad range of cases.
What is the Invisalign® Process Like?
Before starting treatment, patients are generally able to view their projected rate of progress and potential results via advanced 3D imaging software. This technology can simulate the entire treatment process—from the starting position of your teeth to the desired final outcome—so you know what to expect throughout every stage of the Invisalign® system. During treatment, patients will receive a new set of Invisalign® trays every two weeks that incrementally move their teeth into the next positioning until the final outcome is achieved. Aligners should be worn for at least 20 to 22 hours per day—ideally, at all times except when eating or cleaning the teeth. Invisalign® usually does not require as much time in the dentist's chair, or as many office appointments, as traditional braces.
Invisalign® Teen
Invisalign® is particularly popular among younger patients and teenagers, who generally appreciate the ability to straighten their smile discreetly and without obvious indication of treatment. The ability to remove the aligners is also considered a plus, allowing patients to eat sticky/chewy foods like popcorn and candy without the time-consuming task of cleaning between their braces. Most significantly, invisible aligners can give individuals the confidence to attend school events, pursue hobbies, and take pictures without the self-consciousness often associated with metal braces. Whereas traditional wiring and brackets were known to draw unwanted attention from others, the transparent aligners worn during Invisalign® treatment are virtually unnoticeable.
How Long Does Invisalign® Take to Straighten Teeth?
The average treatment time for Invisalign® is often faster than, or consistent with, how long metal braces take to straighten teeth. Most patients achieve their goals within 9 to 12 months, although the extent of your concerns will ultimately determine the length of your treatment. The best way to complete your Invisalign® plan as fast as possible is to wear your aligners religiously, only removing them when eating, drinking, brushing your teeth, or flossing.
What Results Can I Expect From Invisalign®?
At the end of your treatment plan, your teeth should reach their final positioning and concerns with bite alignment/crowding/crookedness should be resolved. Results from Invisalign® are designed to last forever as long as patients continue to wear their retainer after treatment. Dr. Griffiths recommends keeping up with your semi-annual dental appointments so he can monitor any potential concerns and preserve your smile for as long as possible. Good oral hygiene practiced daily will also be necessary to prevent decay and maintain the outcome of Invisalign®. If your teeth have yellowed or become dull over the course of treatment, teeth whitening can be an excellent way to brighten your smile and put the "finishing touches" on your results.
How Much Does Invisalign® Cost?
According to their website, Invisalign® can cost anywhere from $3,000 to $7,000 and the price generally varies across different geographic locations. The Invisalign® site also states that dental insurance may cover up to $3,500 of your total costs, depending on your provider and the complexity of your treatment plan. Dr. Griffiths and our office will be sure to provide you with a personalized quote, as well as your different payment options, once your concerns are evaluated in a consultation. Any out-of-pocket expenses may be applicable for dental financing through CareCredit®, a leading healthcare lending company that offers qualified patients an array of low- to no-interest payment plans to help make their Invisalign® costs more affordable. Please contact Griffiths Smiles for additional information on Invisalign® and our team would be happy to assist you with other questions you may have.
Will I Have to Wear a Retainer After Invisalign®?
Wearing a retainer after your orthodontic treatment is a key part of maintaining the straight, healthy smile achieved with Invisalign®. Since the teeth can naturally migrate out of position over time, wearing a retainer helps ensure your teeth stay in position and your bite remains correctly aligned. Fortunately, patients usually only need to wear their retainers at night while sleeping. Dr. Griffiths will determine whether it's necessary for you to wear your retainers every night or on a less frequent basis. They will likely feel similar to your Invisalign® aligners, except they're designed to last for years without cracking, changing shape, or becoming warped.
Does Invisalign® Hurt?
Although some patients experience a feeling of pressure when they initially wear their Invisalign® aligners, this quickly subsides as individuals become acclimated to treatment. In general, patients experience less discomfort the more they get used to wearing their aligners — this gentle pressure can also serve as a sign that treatment is working and the teeth are being guided to the right positioning. Those who undergo treatment with Invisalign® almost unanimously agree that the clear, removable aligners are much more comfortable than traditional braces, which are often painfully tightened at various intervals of the treatment period. Plus, Invisalign® virtually eliminates the irritation and bleeding that can result from metal brackets poking against the gum tissue.
Additional Invisalign® FAQs
How do I clean my Invisalign® aligners?
Invisalign® aligners require very little maintenance to keep in good condition. In general, they should be cleaned with a soft-bristled toothbrush and clear, liquid soap at the end of each night to remove trapped food particles and bacteria. Once thoroughly sanitized, the aligners should be rinsed and stored in a protective container when they're not in use. We strongly advise against drinking beverages (other than water) with your aligners in place, as exposing the thermoplastic to dark or sugary drinks can stain them and make your orthodontic treatment more noticeable to outside observers. Plus, this can also increase bacteria buildup in your aligners and make it more difficult to keep them clean.
Will Invisalign® change my speech?
When you first start to wear your aligners, you may experience a slight change in speech. There is usually an acclimation period for patients as they get used to the sensation of speaking while wearing their aligners. A mild "lisp" may be noticeable at the beginning of treatment, but you should quickly become accustomed to the feeling of having your aligners in place. Once you've acclimated to treatment, you should be able to speak normally.
Can Invisalign® treat just one row of teeth?
While it's possible to straighten only one row of teeth, we typically recommend treating the entire mouth since changes made to the upper dental arch will likely require accommodations in the lower dental arch, and vice versa. By only addressing one row of teeth, this may impact the way your teeth fit together and disrupt the alignment of your jaws. For these reasons, it's generally best to undergo orthodontic treatment for the entire mouth to ensure you obtain a comfortable, natural bite. Ultimately, however, each patient will be evaluated on a case-by-case basis according to their needs.
Can I chew gum with my Invisalign® aligners in?
Chewing gum while wearing your aligners can not only expose the clear plastic to sugar and staining agents, but it may also damage your aligners. If your aligners become warped or otherwise deformed, you might need a new set of aligners and, as a result, unintentionally prolong your treatment time. To eliminate this risk, Dr. Griffiths and our team recommend removing your aligners before chewing gum or eating any type of food or drink.
Does at-home teeth straightening work?
Orthodontics are considered a major treatment that permanently changes the alignment of your upper and lower jaws. That said, it can be very dangerous to use "DIY braces" or mail-order braces to straighten your teeth. Any type of orthodontic treatment should be conducted by a trained dentist or orthodontist who can personally evaluate your bone structure and measure your bite to create the safest possible treatment plan. Simply put, attempting to straighten your teeth at home without the supervision of a dentist can be ineffective at best and cause irreparable damage at worst.
Questions? Please contact Griffiths Smiles for more information or to schedule an appointment with our friendly dental team.