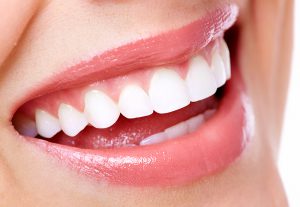 Teeth whitening is a simple, non-invasive, and powerful treatment designed to brighten the color of your teeth and erase severe stains and discoloration. Not only can teeth bleaching whiten the surface of the enamel, but our professional whitening systems also have the strength to reach deep discoloration often residing in the inner tooth (dentin).
Dull, yellow, or stained teeth are an aesthetic concern that can prematurely age patients, as well as take away from the beauty of their appearance. Our highly skilled cosmetic dentist in Bankers Hill, Dr. Mark Griffiths, can restore the youthful brilliance of whiter, healthier-looking teeth and help you achieve a more dazzling smile. He offers both professional in-office treatment and take-home whitening kits to accommodate a wide range of patient preferences.
What are the Benefits of Teeth Whitening?
Whether performed in isolation or as the last step in your smile transformation, teeth whitening can be a conservative way to make your teeth look more luminous. At our Bankers Hill practice, teeth bleaching allows patients to achieve their desired level of brightness faster than they would with whitening strips and other over-the-counter products. In general, our teeth whitening kits can:
Can lighten the color of teeth by several shades
Lighten teeth at a patient's convenience, whether at home or during an in-office session
Be stronger and more effective when prescribed by a dentist
Make aged teeth look brighter and more youthful
Best of all, our highly effective teeth whitening systems can lift years of staining off the enamel in as little as one appointment. We welcome you to explore our smile gallery to see examples of Dr. Griffiths' work with our cosmetic dentistry services.
Common Reasons to Whiten Teeth
Due to the simplicity of treatment and the dynamic results often achieved with teeth whitening, individuals of all ages may choose to undergo teeth bleaching to improve:
Brown or yellow stains due to smoking/your diet
Discoloration due to fluorosis (too much fluoride during the development of the teeth)
Stains caused by certain medications
Normal wear of the enamel
Teeth whitening is also frequently incorporated into an all-encompassing smile makeover for patients who are interested in enhancing multiple cosmetic concerns at once, such as short teeth, discoloration, gaps, chips, asymmetry, and more. For single teeth that have been severely discolored or browned, Dr. Griffiths may recommend porcelain veneers to more effectively restore a whiter sheen to your smile.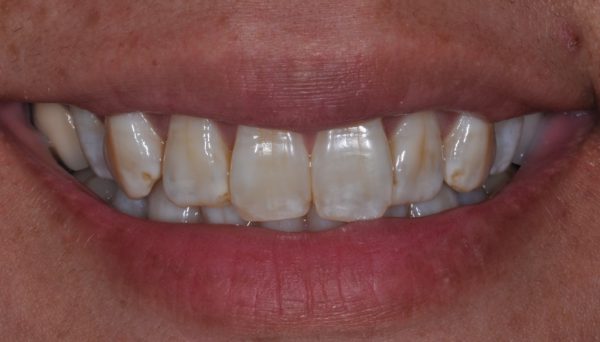 Before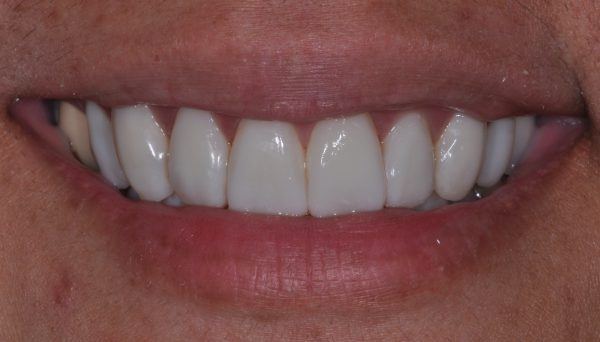 After
Why Do Teeth Darken Over Time?
It's natural for the teeth to become discolored over time as years of staining agents accumulate on the enamel. Dark spots from coffee, tea, wine, and colas often build on the surface of the teeth, while the soft inner core of the tooth (dentin) tends to become more yellowed. These factors — on top of discoloration caused by smoking, poor oral hygiene, medications, or simply the natural course of aging — can all lead your smile to take on a darker sheen. This is especially true with older patients, but can also affect individuals in their forties and fifties.
Teeth whitening can provide a relatively fast and non-invasive solution to combat staining and restore a brighter, whiter shade to your smile. Each patient's whitening regimen is personalized to their needs and goals, allowing you to customize the frequency and duration of your whitening treatment based on the severity of your concerns.
Over-the-Counter vs. Professional Teeth Whitening
With so many over-the-counter whitening products on the market, you may be wondering why someone would bother visiting a dentist for a professional teeth whitening session. Simply put, the whitening systems utilized by a cosmetic dentist can achieve results that are much more effective, immediate, and noticeable than the outcomes typically provided by whitening products. When you use toothpastes, whitestrips, and rinses, they often only work to remove surface stains and do not penetrate the inner core of the tooth, which is where longtime discoloration occurs. Plus, it can take weeks or even months of consistent nightly use to see a lighter result.
Professional teeth bleaching offers a much faster and more powerful treatment to whiten your smile — the whitening agents available at dental offices can lift deep discoloration to lighten your teeth by as many as six to eight shades. A visible difference is often evident right after your one-hour treatment. Our take-home whitening trays also work faster and more effectively than over-the-counter solutions. Aside from the enhanced results provided by professional whitening, our in-office and at-home trays can also be adjusted based on your sensitivity levels for a more comfortable treatment process.
How is the Teeth Whitening Procedure Performed?
Teeth whitening is a very versatile cosmetic dentistry treatment that can be undertaken at your convenience. While professional in-office teeth whitening can give you a brighter smile immediately after your appointment, Dr. Griffiths also offers custom at-home teeth whitening kits so you can lighten your teeth within the comfort of your own surroundings.
In-Office Teeth Whitening
If you opt to undergo an in-office teeth bleaching treatment, the process typically takes one hour. At our practice, teeth whitening with the powerful Zoom!® system can often lighten your enamel by several shades in the course of a single appointment. Mild to moderate sensitivity is a common reaction, and Dr. Griffiths encourages you to communicate your needs so he can adjust the amount of whitening product utilized as necessary. He will fully explain the different whitening options available, as well as the nature of your treatment, in person.
At-Home Teeth Whitening
The process for at-home teeth whitening involves two dental appointments, during which Dr. Griffiths will create special molds of your teeth to produce custom-designed teeth whitening trays. After a discussion of your whitening goals, Dr. Griffiths will take impressions of your bite and confirm the most beneficial treatment plan for you. Your whitening trays will then be crafted at an advanced dental lab. At your second appointment, Dr. Griffiths will ensure your new whitening trays fit properly and go over your whitening regimen. Depending on your needs and the current state of your smile, you may be instructed to wear your trays overnight or twice a day for the next few weeks. At the end of your treatment plan, you should be able to enjoy a powerful lightening of your enamel and a brighter, younger-looking smile.
How Long Do Teeth Whitening Results Last?
The longevity of your renewed, whiter smile varies according to your lifestyle habits, oral hygiene regimen, and other individual factors. The natural aging process will continue and your teeth will still be vulnerable to potential discoloration in the future caused by smoking and/or staining agents. While the results of teeth bleaching will not last forever, your teeth will always be lighter and more luminous than they would have if you hadn't received any whitening treatment. Certain measures can help prolong the outcome of teeth whitening, including:
Using a straw when drinking colas, coffee, wine, and other dark beverages
Strong oral hygiene habits consisting of frequent brushing and flossing, as well as routine professional cleanings
Brushing your teeth after consumption of pasta sauce, blueberries, etc.
Fortunately, touch-up whitening treatments can be pursued as necessary if you notice your teeth beginning to yellow again. Dr. Griffiths can advise you on the best treatment plan for your goals during your appointment.
How Much Does Teeth Whitening Cost?
Teeth whitening costs vary based on the method of teeth whitening, the extent of teeth bleaching necessary, and your overall smile goals. In San Diego, the price of teeth whitening normally ranges from $275 to $600 depending on the unique factors of your treatment plan. Dr. Griffiths and our team will be able to present you with a personalized cost estimate once your needs are evaluated in a consultation. Although teeth whitening is an elective treatment option not usually covered by dental insurance, financing through CareCredit® can be a popular option for patients who may be looking for a more affordable way to whiten their teeth. Once approved, qualified candidates can choose the best short- or long-term payment plan for their unique budgetary concerns. In many cases, the financing plans available with CareCredit® can offer the benefit of low- to no-interest rates. Our office would be happy to discuss the cost of teeth whitening with you further if you have any other questions or concerns.
How to Manage Sensitivity After Teeth Whitening
Teeth sensitivity after a professional whitening treatment is both an extremely common and completely normal occurrence. Any tenderness or sensitivity should naturally subside in the hours following your appointment, but a few simple at-home tips can help you manage discomfort in the meantime:
Use a soft-bristled toothbrush
Stay away from very hot or very cold food/drink until sensitivity abates
Utilize dental products specifically designed to reduce teeth sensitivity, which Dr. Griffiths can recommend to you at the time of your treatment
Reduce how often you whiten your teeth
Apply less whitening gel if you are using an at-home whitening kit
If you know your teeth are prone to sensitivity, please don't hesitate to communicate your needs to Dr. Griffiths. He can tailor your teeth whitening treatment to your preferences and utilize a less powerful or more comfortable teeth bleaching system if necessary.
It's important to remember that teeth whitening doesn't produce permanent results, so it can be beneficial to schedule regular touch-up treatments and/or limit your consumption of foods and beverages that could stain your smile, such as wine, tea, soda and coffee. Smoking can also deeply discolor the teeth and darken your enamel. Annual teeth whitening treatments can be key to maintaining a beautiful, white smile.
Is Natural Teeth Whitening Effective?
"Natural" or "DIY" methods of teeth whitening utilize charcoal, coconut oil, baking soda, or similar products to replicate the effects of professional teeth bleaching. In most cases, using natural remedies to remove staining is considered unsuccessful at best. These products lack the bleaching agents necessary to properly remove discoloration, and there is no scientific or clinical evidence that supports the efficacy of natural teeth whitening. In cases of charcoal teeth whitening, patients can even actively harm their dental health by stripping away the protective layer of their enamel. Charcoal is very abrasive and can not only reveal the yellow dentin on the inside of the tooth, but also make the teeth more sensitive by unnecessarily removing natural tissue. It's generally best to follow guidance from a cosmetic dentist when considering your teeth whitening options to help ensure you can safely achieve the results you desire.
Is Teeth Whitening Safe?
Teeth whitening is among the safest and most risk-free treatments to transform your smile. The process is non-invasive, meaning no tissue is removed during your appointment. There is also no need for anesthesia or sedation during teeth whitening. While virtually any patient can safely undergo teeth bleaching, it's always best to consult with a qualified cosmetic dentist about your goals so he or she can confirm that teeth whitening is the best option to attain your dream smile. Our team can customize the details of your treatment plan, such as the frequency of whitening necessary and the amount of product applied to the teeth, based on your comfort and sensitivity levels. Never attempt to try natural whitening techniques without your dentist's input, as some DIY whitening trends can be harmful to your tooth health and general oral wellness.
For more information on teeth whitening at Griffiths Smiles or our other cosmetic dentistry solutions, please don't hesitate to contact our Bankers Hill-area practice today.