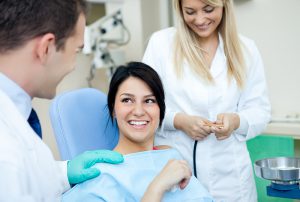 A dental implant is an artificial tooth that is surgically affixed to the jaw to mimic the appearance and function of a natural tooth. These restorations are composed of a titanium post, a connective abutment, and a custom dental crown, all of which work together to form a natural-looking and fully functioning tooth. Thanks to their unmatched security, realistic feel, and long-lasting results, implants are often the preferred solution for missing or lost teeth by dentists and patients alike.
How Can Dental Implants Benefit Me?
Missing teeth can lead to a number of unfortunate oral health concerns, including the shifting of surrounding teeth, decreased biting ability, and jaw bone loss. Dental implants can generally offer the following advantages over other dental restorations:
Realistic replacement of a missing tooth
Preservation of healthy bone in the upper and lower jaws
Increased security, longevity, and support when compared to dentures
Natural feel in the mouth
Zero maintenance besides brushing and flossing teeth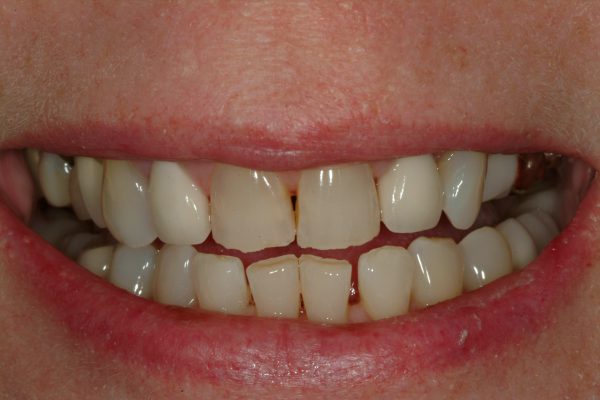 Before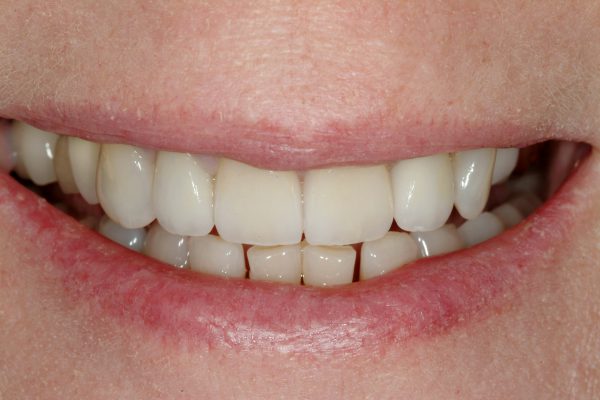 After
While implants are frequently considered the "go-to" tooth replacement option, implant restorations and/or oral surgery may not be the best course of treatment for all patients. A custom-made dental bridge can also provide beautiful results for patients seeking to recover lost teeth. Our experienced dentist—Mark Griffiths, DDS—would be happy to speak with you about your goals and assist you in determining the best restoration for your needs.
Who is a Candidate for Dental Implants?
If you are interested in dental implants, adequate bone volume to support the implants is key to a successful, long-term result. During your appointment, Dr. Griffiths and our team can use x-rays and dental imaging to assess whether enough healthy jawbone is available to undergo surgery. Good candidates for dental implants should also show no signs of periodontal disease, as poor gum health is often linked to a high rate of implant failure. If necessary, any bone grafting and/or gum disease treatment can be performed prior to your procedure to help ensure you have a stable foundation for your dental implants.
How is the Dental Implant Procedure Performed?
Dental implant placement involves an oral surgery in which a titanium post—meant to act like a natural tooth root—is inserted into the gums at the missing tooth site. The post is then left to fuse with the jawbone for a few months during a process called osseointegration. Once the post has properly integrated, a zirconium or titanium abutment is placed over the implant, which will act as the connecting point for a custom-made dental crown. Impressions of your teeth will be taken, and a porcelain crown is then crafted to precisely match the color and proportions of your smile. The crown is then connected to the abutment to complete your implant restoration.
How Much Do Dental Implants Cost?
According to the American Academy of Implant Dentistry (AAID), the cost of an implant for a single tooth is estimated to be between $3,000 and $4,000. However, implant costs vary widely according to a patient's needs and unique factors such as:
The location of the missing tooth
The type of dental crown placed
The inclusion of any prerequisite treatments, such as gum disease therapy or bone grafting
Our office can provide you with a detailed cost estimate after your consultation with Dr. Griffiths. Many individuals find that their expenses can be made more manageable with the financing plans offered by CareCredit®, which give qualified patients the opportunity to pay for their treatment in a series of small, flexible installments. If you have any questions about the low- to no-interest payment plans offered by CareCredit®, or if you would like to learn more about the cost of dental implants, please contact Griffiths Smiles today.
Call our office at (619) 298-6257 to schedule a consultation for dental implants, or for more information about our restorative dentistry services.