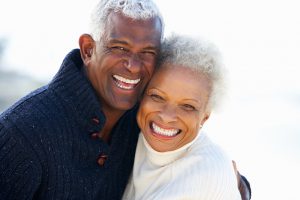 Dentures are one of several teeth replacement options that can help patients reclaim the full function and appearance of their smile. In cases wherein the condition of the teeth has declined to the point of extraction, dentures can provide an effective and affordable solution. When it comes to attached dentures, there are generally two types of restorations available: full and partial dentures. The best type of denture for you depends on your needs and how many natural, healthy teeth remain. Dr. Mark Griffiths, our skilled dentist in Bankers Hill, is committed to finding you the best possible option to restore your missing teeth, as well as your self-confidence.
Full Denture vs. Partial Denture
In general, a full denture is a removable prosthesis composed of artificial teeth shaded to match your exact tooth color. The teeth are attached to a plastic base resembling the color of your gums and are designed to rest on top of your gumline. Like the name suggests, a full denture involves replacing your entire dental arch, whereas a partial denture is crafted to replace the missing teeth surrounding your  remaining healthy teeth. Both full and partial dentures involve a major lifestyle change and patients should not expect the same level of comfort or functionality provided by their natural teeth. Removable dentures can affect your food choices, confidence when eating and speaking, and self-esteem during social interactions. If you're seeking a more secure and natural-looking solution to replace several or all of your missing teeth, we invite you to ask Dr. Griffiths about implant-supported dentures.
Who is a Good Candidate for a Full Denture?
After examining your teeth and mouth, Dr. Griffiths can recommend whether a partial, full, or implant-supported denture is the best kind of restoration to repair your smile. Those who may be interested in full dentures generally have:
All of their teeth missing in the same dental arch
Trouble eating or chewing their food
Embarrassment about their smile
The desire to obtain a more economical replacement for their missing teeth
A full denture can make it easier for you to eat certain types of foods and help you regain a natural-looking smile. Patients generally report that a full denture in the upper arch feels more comfortable than a full lower denture, which is why our team recommends securing your lower denture with dental implants. This affixes the denture to your jawbone, making it easier to eat, speak, and smile with greater confidence.