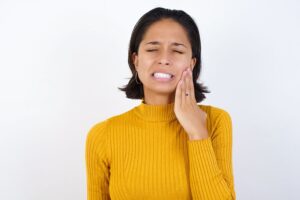 Our teeth are vulnerable to many different types of damage, from bacteria buildup to an unexpected dental injury. No matter the cause, a compromised tooth can impair the health, function, and appearance of your smile. In addition to aesthetically refining the smile, cosmetic dentist Mark Griffiths, DDS is also highly experienced performing restorative dentistry procedures to reclaim the form and function of a damaged tooth (or teeth). Dental crowns, in particular, offer unmatched protection in strengthening a weak tooth and preventing further breakdown of the enamel. Functioning as "caps" that are secured over the tooth body, a dental crown can enhance a damaged tooth in many ways.
Health and Function
First and foremost, crowns are designed to enhance the health and integrity of a tooth. A crack in the enamel as well as tooth decay can cause pain and sensitivity in the mouth, often making it difficult to bite down. A dental crown can help alleviate pain by reinforcing the tooth and preventing further deterioration, allowing you to chew more comfortably. A protective restoration like a dental crown can be vital in preventing a tooth infection from forming and potentially avoiding an extraction.
Appearance
Although their main purpose is to protect and reinforce a weak tooth, dental crowns also offer aesthetic benefits to your smile. Crowns are typically made from all-porcelain material or porcelain fused to metal, which both resemble the color and translucency of a natural tooth. This means your crown can be indistinguishable from your healthy teeth, whereas the metal crowns of the past often stick out when patients smile.
Dr. Mark Griffiths and our friendly team at Griffiths Smiles can help you find the most ideal solution to repair damage while restoring the full health and function of your tooth. Please don't hesitate to contact our San Diego-area office to speak with a team member about our services and how we can help you revitalize your smile.