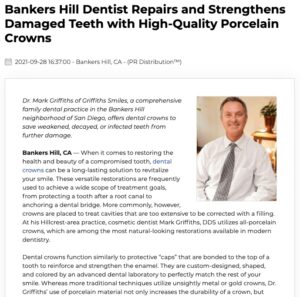 Dr. Mark Griffiths of Griffiths Smiles, a comprehensive family dental practice in the Bankers Hill neighborhood of San Diego, offers dental crowns to save weakened, decayed, or infected teeth from further damage.
Bankers Hill, CA — When it comes to restoring the health and beauty of a compromised tooth, dental crowns can be a long-lasting solution to revitalize your smile. These versatile restorations are frequently used to achieve a wide scope of treatment goals, from protecting a tooth after a root canal to anchoring a dental bridge. More commonly, however, crowns are placed to treat cavities that are too extensive to be corrected with a filling. At his Hillcrest-area practice, cosmetic dentist Mark Griffiths, DDS utilizes all-porcelain crowns, which are among the most natural-looking restorations available in modern dentistry.
Dental crowns function similarly to protective "caps" that are bonded to the top of a tooth to reinforce and strengthen the enamel. They are custom-designed, shaped, and colored by an advanced dental laboratory to perfectly match the rest of your smile. Whereas more traditional techniques utilize unsightly metal or gold crowns, Dr. Griffiths' use of porcelain material not only increases the durability of a crown, but also resembles the translucency of a natural tooth. Whether placed alone or in combination with dental implants, dental bridges, or endodontic therapy, porcelain crowns can provide as much aesthetic enhancement as functional reinforcement.
Even in cases of full mouth rehabilitation, Dr. Griffiths believes in using gentle, minimally invasive techniques whenever possible. For patients who are struggling with fractured or severely decayed teeth, Dr. Griffiths states that porcelain crowns can be an ideal solution to alleviate pain, repair existing damage, and reclaim the full integrity of one's bite.
About Mark Griffiths, DDS
Dr. Mark Griffiths is a San Diego-based dentist who provides cosmetic, restorative, and family dental treatments at his practice, Griffiths Smiles. As a strong believer in continuing education, Dr. Griffiths is a Dawson Scholar and further involved in a myriad of national professional organizations. In addition to his years-long membership to both the American Academy of Cosmetic Dentistry (AACD) and the Dental Organization for Conscious Sedation (DOCS), Dr. Griffiths is also a 20-year member of the American Dental Association and the California Dental Association. Dr. Griffiths offers patients the latest treatments in modern, minimally invasive dentistry, resulting in his yearly recognition as a "San Diego Top Dentist" since 2011. Dr. Griffiths is available for interview upon request.
To learn more, please visit griffithssmiles.com or facebook.com/GriffithsSmiles.
Contact:
Griffiths Smiles
3588 Fourth Ave, Suite #300
San Diego, CA 92103
(619) 298-6257
Rosemont Media, LLC
(800) 491-8623
www.rosemontmedia.com