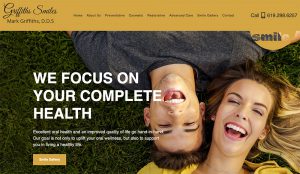 Dr. Mark Griffiths and the entire team at Griffiths Smiles are ecstatic to welcome you to our newly designed website, where you can find a plethora of useful information about our comprehensive dental services! Located in the beautiful neighborhood of Bankers Hill, San Diego, Griffiths Smiles is committed to providing high-quality care and a pleasant experience for you and your entire family. We hope this site will serve as an all-encompassing resource where you can learn about the preventive, restorative, and cosmetic treatments that can help you maintain the health and appearance of your smile.
Here, you can peruse online reviews, view our various smile transformations in before-and-after photos, get the details on specific treatments, and read about Dr. Griffiths—our highly experienced cosmetic dentist. If you have never visited Griffiths Smiles before, we encourage you to explore this site to gain a cursory introduction into our warm and patient-focused practice. 
Check this blog regularly for up-to-date information on practice updates, treatment specials, and answers to frequently asked questions. Whether you are a new or current patient, we look forward to seeing you at our Bankers Hill and Hillcrest-area location and learning how we can help you achieve your dental goals!
Please call our office at (619) 298-6257 or contact us online to schedule an appointment, or to speak with a member of our dental team.