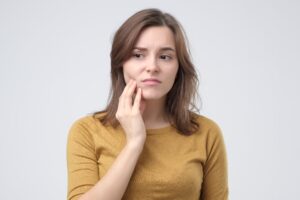 There are many potential reasons for a lost or missing tooth, ranging from a sports injury to a lack of dental hygiene over the years. Although the cosmetic effect that a missing tooth (or teeth) can have on your smile is obvious, lesser known consequences of tooth loss include:
The shifting of surrounding teeth
Loss of strength in your bite, often resulting in unhealthy dietary choices
Gradual facial bone loss, as there's no tooth root in place to stimulate the jawbone
Changes in your facial shape due to the jawbone recession mentioned above
A higher risk of gum disease, which is typically associated with a higher risk of heart disease, stroke, etc.
For these reasons, it's essential to your overall health and appearance to start exploring tooth replacement options as soon as possible. If you have one or more missing teeth, Dr. Mark Griffiths offers several possible solutions depending on each patient's needs and preferences. If you prefer not to undergo oral surgery, dental bridges are custom-made restorations that can "bridge" the gap between your healthy teeth. Results can blend in perfectly with the rest of your smile and prevent your surrounding teeth from shifting.
That said, the most long-lasting restoration that will look and feel as closely to a natural tooth as possible involves dental implants, which can be affixed to restore individual, multiple, or an entire row of missing teeth. A dental implant is a titanium post shaped like a natural tooth root and inserted into the gums during oral surgery. The implant fuses with the jawbone over several months, allowing your dentist to then top the implant with a natural-looking denture or dental crown. By the nature of this treatment process, dental implants are the only restoration capable of preventing jawbone loss.
Our team can evaluate your needs and help you determine the best tooth replacement option to achieve your goals. Don't hesitate to contact Griffiths Smiles in the Bankers HIll neighborhood if you would like to correct your missing tooth with personalized, long-lasting solutions.